~General Information~
Name:
Kurokon Shikyo
Nickname/Alias:
Mass Manipulator
Weight:
190lbs
Height:
7'3"
Age:
24
Gender:
Male
Appearance: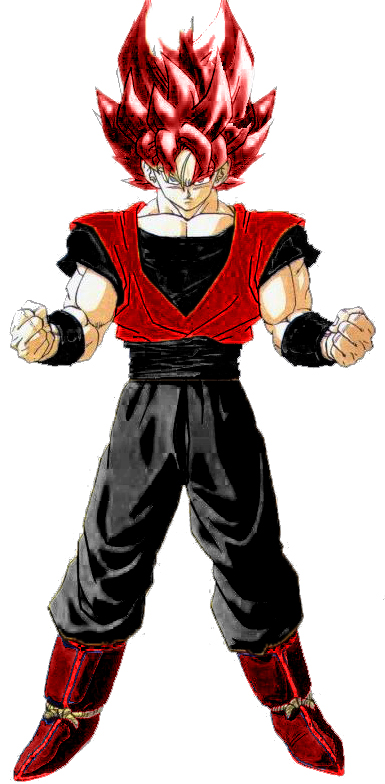 His body is taller than average, along with being of an athletic body type, his chest and stomache muscles are very packed and thick, meaning they are harder than certian metal alloys. He is very flexible and fast with his reaction timing, due to his athletic body figure, however this does not mean he isnt strong, infact his strength is his highest attribute. His strength has been said to be close to doubling Tsunade's.
Clothing:
Unlike many other taijutsu masters, Kurokon's appearence is athletic, for his height at least. To say this would mean that he is very muscular if he was not his height, which stretches out the muscle. Doing so allows for more flexibility, and greater control. He has a small scar on his left arm, from his time in Cinkoku. He usually wears a red dual layered gi, with a black undershirt, over dark black pants. All his clothes are made for combat, and as such they do not rip easily.
Personality:
With as much trouble as Kurokon has dealt with, he has become mentally unstable, though it seems his morals are still intact, he is random and very crazy. He has many friends, and is somewhat outgoing, much prefering anything to sitting at a desk. He doesnt abuse the power he has, though he does show a distaste for respect towards those more powerful, as he beleives that respect is earned, not gained, and certianly not gained through power. He has been known to be rude to people who act arrogant, and overall everyone else as well.
His Insane attitude is a cover up for a disturbed and depressed soul, who, in truth, never had a chance at a normal life. He is said to be like energy, covering everything, and the impression he leaves, is permanent. His very pressence can make men, even ones as powerful as him, quake with fear, not for physical reasons, but for the fact he is known to have adept knowledge of psychology, and sociology.
~Clan Information~
Clan Name:
Genkei
Kekei Genkai:
Name: Consume
Description: After weakening an enemy to patheticly low levels, near death, they are able to consume them and gain one of their powers, while healing himself. This consuming is done by tentacles that tear them apart. These tentacles are able to grab onto the loose matter of the body and use it to heal, and possibly gain new abilities with them. The abilities they gain from consuming are the only chakra based abilities they may use.
Name: Ultimate Regeneration
Description: After consuming something their regeneration speeds up tremendously, if they lost an arm, then consumed an arm, they would get their arm back, obviously this is a give and take type of regeneration, although his natural regeneration is as fast as low level regeneration for jinchuuriki, meaning they can regenerate somewhat without consuming.
Name: Transforming
Description: After consuming someone, he can mimick their appearences, even their scents, perfectly. He also mimicks their voice and some of their powers. This is made possible by using their cells to change forms to them, also allowing him the knowledge that they had.
Name: Immense improvements
Description: Genkei's abilities allow the members to lift and throw immense weight, such as a current day car, or van, with practical ease, making their physical attributes incredibly powerful. They has both the reaction timing, and the speed, to dodge snake strikes, which is beyond the human maximum. Their durability is incredible due to his powers, when Their body is damaged beyond usual repair, Their will revert to a dark red puddle of bio-mass, until they absorbs a living being, even one as small as a crow will allow them to revert to a weaker form where their natural regeneration will take over. However, as a side effect from all this, they cannot use ninjutsu, or genjutsu, however they can control their limbs to allow them to stick to walls, or even walk on water.
Clan Symbol:
None
Clan History:
The clan started as an experiment from Orochimaru. This clan broke free of his grasp, claiming their own new lands. They, before Orochimaru's experiments, had higher physical abilities, and lower chakra than others. With his experiments he made them much more powerful, due to a power-enhancer. His other experiments changed their need for organs, allowing them to live shortly without the need of organs, but only for short times.
Ability Summary:
The genkei clan has extreme physical abilities, but no chakra abilities, at least until consuming another. The clan has a small regeneration until consuming, at which point regeneration becomes equal, and almost instant, it would take very short amounts of time to regenerate even limbs. However, they are extremely weak to fire and lightning, reason being, they both destroy all cells. The genkei clan is a master taijutsu clan, much like Might Gai. Their chakra levels, while high, are useless. They can only use the jutsu that they get from consuming, otherwise chakra is useless. Their other main abilities are body manipulation, the ability to control every aspect of their bodies, even weight.
~Rank/Village Information~
Classification:
Jounin
Letter Rank:
A
Village:
Suna
~Skill Information~
Skill Specialty:
Taijutsu, Kenjutsu.
Elemental Affinity:
Lightning, Water
Special Characteristics:
Nearly genuis intellect.
~Jutsu~
Name:Rank:Element:Description:
~History/RP Sample~
History/Background Story:
Begining Arc:
Guarding Arc:
Betrayl Arc:
Suna Arc:
Roleplay Sample:
A stilhouette appeared in the distance, a hood over his head as the rain beat down. This figure was well known, for his raw power, as he was possibly the most powerful being in the universe, for two main reasons. His very pressence made men quake with fear. When he released his power he could crush them without second thoughts. He can be described by many words, Insane, planning, but also less well known... he was depressed.
He had lived more years than most beings, watching as his friends and family died, even his very own wife. He had seen what caused this pain of his. It was this war of ignorance, that was what had destroyed so many lives, including his own. He had killed mercilessly as nothing more than a child. He had been to war at least four times now, and betrayed just as many. His best friends usually betrayed him. He wasnt truly an evil person, but he had more problems with his life than most others.
The rain began to drop much softer, as if sensing that Kurokon was growing weary. His thoughts turned to suicide, but he would never do that. How could he possibly reach his ultimate goal of peace then? He had no idea what to do now. His war to cause peace had failed, possibly making everything worse. He had tried the diplomatic way, but he had failed at that too. Perhaps he was wrong, perhaps he was not the being that could stop all war and make everlasting peace. Was he still doing this for just the power? No, he didnt become corrupt like Orochimaru had. He would never do that.
Though he was once friends with Orochimaru he would never be able to betray him like that, Orochimaru himself had wanted peace, but he went about it the wrong way. He had foolishly tried to make himself god, though Kurokon was now god compared to even kages, he knew he could still be beaten. He actually hoped he would be beaten, if he could be beaten it would help his ultimate plan. He was going to search for Hayami, to live back at the house, where people understood each other. He knew most wars began from misunderstandings, as did murders. He had tried to bring peace to the world and failed, just like every other great leader. Unlike them, He was still alive, he always would be.
He stood up straight and started walking again. His feet thudded on the ground, and splashed, matching his heartbeat. He was going the normal human speed. He had almost given up hope there. No more would this happen, he would be strong. He would perserve through even the toughest times. He had no time to be weak, no time to lose his way. He would perserve... for her. He stopped as he approached a graveyard. He bowed his head down and entered. He walked a small bit until coming upon a small grave. The tombstone itself was not very noticable, the usual cross with a name inscribed, however, what was inscribed was something only Kurokon knew.
March 14 1996, Kurohime Shikyo
Kurokon kneeled down infront of the grave and put a white rose in the flower holster. His wife had loved those, she always said they represented the purity of the world, something that Kurokon found wiser than Da'vinci. "Hello Hime... I know its been a long time.. I'm sorry.. I havent had the time to come visit.. I hope wherever you are is a good place.. and I pray whatever being guards it will let me in... I'm still working on our dream... I was losing hope for a while but.. I think I may have found a new hope... Theres this girl.. Hayami Rentai... she could hold the key to what we've always dreamed of... I hope your safe dear... good bye.." With those words said, Kurokon removed his hood and stood up, walking out of the graveyard.
Kurokon walked straight towards the clan house. He still remembered where it was. He had lived there for years after all. As he walked he stopped slouching. He was getting happier, their dream might just come true. His eyes no longer glowed, they now seemed to burn through the rain, as did his dark red hair. They both represented his personality. He was glad that the darkness was gone for now. However now he had to stop the chaos and return the worlds to peace. He saw things how they were, there was no good or evil, no black or white, only shades of gray.
His eyes represented the power inside of him. The white was the purity he held, from years of pain he had grown bitter once, but his positive personality prevealed. His very soul had changed from those experiences he had as a child, or as a teenager. The red of his eyes was the power, the original part of him. He had trained for years to earn such power as Orochimaru, then going from his level to an entirely new level, and then came the blacks. While normal pupils will always be black his were gray, bright gray. This represented two things. The original black represented his darkness, his hatred, although small, it was always best to stay out of. Then the gray part, this part was the hogyoku's effect on him. He no longer cared for good or evil, only peace. His mind had been ridded of the notion of immpossibility.
His hair was different though. His hair's spikieness showed his energetic ways, always hyper and fun, but also lazy and sleeping. He was a rubix cube with ten cubes in each row and column. The red color presented his feirceness. He was like an animal at times, unpredictable and always adapting. He had learned this from his sensei during his life. He had shown him what everything on him meant. His sensei was much like old man Sarutobi, but more leinient. He loved that about him. Their pasts both started with robbery and assault.
Kurokon entered the house without knocking, he never had. He shook lightly to shake off some of the rain. He then went into the living area to relax. The area had a cough, a coffee table and a normal TV. Nothing special happened usually so they had to do something when not able to train. Kurokon had been here many times from his years outside of soul society. He had been injured while training to control his hollow side, however they did many other things inside his mind as well. He chuckled at the memories, knowing he was beginning to act like an old man, what would Sarai think?
He turned his head and smiled lightly as he waited for someone to appear. He knew it wouldnt be long, whenever he came in, someone was about to come in and see him as well. He loved that, as he hated being alone. He was an extrovert after all. He hated the lonliness of the life he had now. He began to note his sorroundings more thouroughly. The cough was a soft blue color, and was as comfortable as could be. The Tv was simple and delicate, about twenty inches of screen. The coffee table was mahongany, and polished well. It had no rough edges, nor splinters sticking out. His cloak still his his clothes, he realized.
He unbuttoned his cloak and let it out as if it were a cape. He had on a black pair of combat boots, black pants with ten pockets, which his clothes were so compact that even Gai would have a tough time ripping them. He had a red sleeveless shirt, which seemed to have sleeves under his black rough leather jacket. He had long ago realized the need for indestructible clothing. He trained hard, and he didnt feel like going naked after a fight. His long dead student had once found him like that, which caused alot of akwardness between the two. Oh, how he missed her.